Last month, we shared the exciting news of Tipmont's
acquisition of Wintek Corporation
, Lafayette's premier technology and fiber solutions provider. I was encouraged to receive many emails and letters of support for this momentous step. One email said this:
"My family lives in the country, east of Romney, and have dealt with limited internet access since we moved in. Reliable broadband will be life-changing."
We hear you and that's why our two companies have joined forces. Together, we'll accelerate our efforts to provide the affordable high-speed broadband that is lacking today. Although the acquisition officially went into effect on Jan. 1, the reality is that our teams have been collaborating for many months now. Here is a broad overview of our progress.
A network upgrade
One of the first things Wintek's network engineers helped us identify was a technology platform upgrade for our core network. By making this change today, we'll be better positioned to bring you the next generation of technology and delivery speeds. The new platform positions us to offer future download speeds of up to 10 Gbps, ensuring we'll be able to meet your needs for years to come.
Our first build area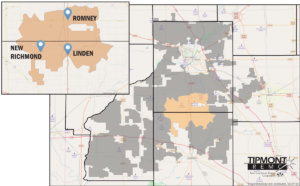 Our first build area
will bring service to over 1,200 homes over 91 square miles, including the towns of Linden, New Richmond and Romney. As of January 25, crews in our first build area have completed 58 miles of fiber, about 46 percent of the area's total 125 mile build. Additionally, all of the underground duct is complete. However, we've also run into a few winter weather delays. Berry-It, our fiber installation contractor, is bringing in additional crews to help keep us on schedule.
Trial period concluding
The internet testing phase for our 12 test customers in Linden has been a resounding success. There have been no support calls or unplanned outages relating to the internet service and the service has consistently performed at a high level. We've been working through some issues with the voice and video service and, through regular communication with our test customers, are making good progress. We expect to have those ironed out by the time our service is available to our beta users.
Beta service customers
Our 12 test customers in Linden received all three services (internet, video, and voice) free for two months to help us make sure the services worked to their satisfaction. With the testing period set to conclude in February, we'll be actively seeking beta customers in our first build area. The best action you can take to show your interest is to register at
tipmont.com/internet
.