There's a high degree of difficulty in the pivot from pastry chef to pitmaster. But Sarah McGregor- Ray and Jonathan McGregor don't just make it look easy at Revolution Barbeque. In just a few short weeks, they've put a distinctly delectable stamp on their brand-new barbeque business.
After opening the Sweet Revolution bakery in 2017 (of whose pastries I sang praises in 2018), the siblings set their sights last year on the former Spurlock's location in downtown Lafayette. Although it will be a while before diners can fully soak in the McGregors' re-envisioning of this space as Revolution Barbeque, they began serving takeout and offering free, contactless home delivery last month. On several evenings, they've sold out of their stock. That's because it didn't take long for their secret to get out: From ship to stern, this is outstanding barbeque.
Stopping short of ribs, we sampled every meat on the menu — chicken in sandwich form and tacos loaded with pulled pork and brisket. (You can top the tacos, served in a gluten-free tortilla, with pico de gallo or with Cheddar cheese, slaw and barbeque sauce.) Tender, smoky and spiced just right, you can't go wrong with any of the meat offerings or how they're bundled. I might have to give the sandwich a slight edge if only because that ever-so-sweet potato bun offers the baker's touch you wouldn't necessarily get elsewhere. I'd also take the sauce in industrial-sized containers were it available as such — punchy, peppery perfection placed on the side that you'll want to pour over everything. (Revolution also sells its brisket and pulled pork by the pound, as well as whole chickens.)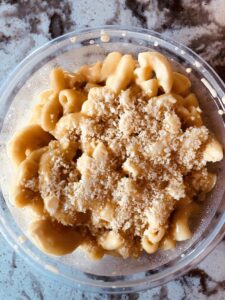 The sides are also scrumptious. A stout potato salad doesn't skimp on the starch. The mac-and-cheese is creamy and served with a delicious crusty crumble. And to give you an idea of just how good these fried homemade pickles are: When my wife gets pickles at a restaurant, she can't move them from her plate fast enough. But she found herself snacking on substantial amounts of this lightly breaded, unmistakably fresh appetizer. And the McGregors know you'll want to leave room for their Sweet side — offering personal-sized chocolate, key lime and seasonal fruit pies for you to enjoy whenever the sumptuous meat has settled. Indeed, a Revolution's arrival at your doorstep never seemed so inviting.
Again: As you have the means and inclination, please continue to support your local restaurants during this time. The food and fellowship that they provide for our communities will be crucial whenever social activity can resume. Whether through patronage now or gift certificates to use at a later date, you can help such restaurants endure.
IF YOU GO
Revolution Barbeque
721 Main St., Lafayette, IN
765-767-4227
Hours
Noon to 8 p.m., Wednesday-Saturday
Closed Sunday-Tuesday