Last month, we looked at Tipmont's borrowing strategy and how it helps maintain stable rates. We also showed how good borrowing decisions have kept Tipmont's interest rates well below the median for cooperatives across the country.
A smart borrowing strategy lays the foundation for creating operating efficiencies – which ultimately leads to a better value for your investment in Tipmont. This month, I'm going to share some insights into Tipmont's efficient operations.
Managing operating expenses
Operating expenses are the costs Tipmont incurs in delivering electricity to you, including line maintenance, labor and technology. More importantly, it represents expenses we directly control.
One metric we use to benchmark how well we're managing our operating expenses is "Total Operating Expenses per Member," or how much is spent each year per member to operate Tipmont.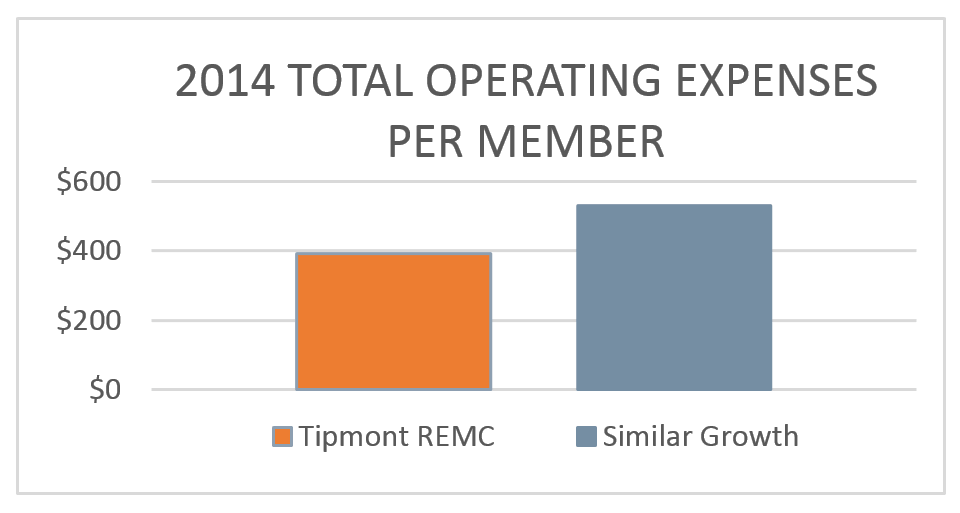 I like to compare Tipmont to cooperatives with similar growth because we face similar cost challenges. In 2014, Tipmont's operating expenses per member was $392. Cooperatives with similar growth spent $531 per member, nearly 30% higher (see nearby chart).
Integrating proven technologies
Tipmont's exceptional workforce enables it to aggressively adapt and integrate proven technologies and efficiencies. A few examples stand out:
Advanced metering infrastructure (AMI), also known as smart meters, not only measure how much electricity is used, but also at what times during the day. It has allowed Tipmont to optimize load management, improve outage restoral times and reduce the overall costs of providing electricity.
Tipmont's geographic information system (GIS) lets us analyze and interpret large amounts of data to understand relationships, patterns, and trends. Among that data is asset location, a critical factor in our business. Making better decisions about outage management, maintenance schedules and daily fleet schedules reduce our costs by optimizing fuel use and staff time.
GIS data also helps our vegetation management initiative. We've recently added a GIS-based vegetation management system to prioritize, plan, manage, track and audit our utility line clearance operations, ultimately providing higher reliability for you.
Our vehicle fleet is now equipped with mobile network access. Access to the Internet and our internal systems help our crews be more efficient in the field.
The real driver
For all of the benefits these technological and operational efficiencies bring, they only perform as well as the people behind them. Next month, we'll examine the team powering the cooperative that you own. Email me at ceo@tipmont.org and share your thoughts and ideas on how we can best empower you.