On average in 2022, Tipmont REMC electric service was active 99.98% of the time.
For those keeping score, that's a .01% improvement from 2021. For those with realistic expectations related to Indiana weather, it's also just .01% off the highest possible mark. Running so close to 100% is a point of pride. But the real value of our annual reliability report is reviewing data to determine outage causes and patterns, then developing datadriven solutions.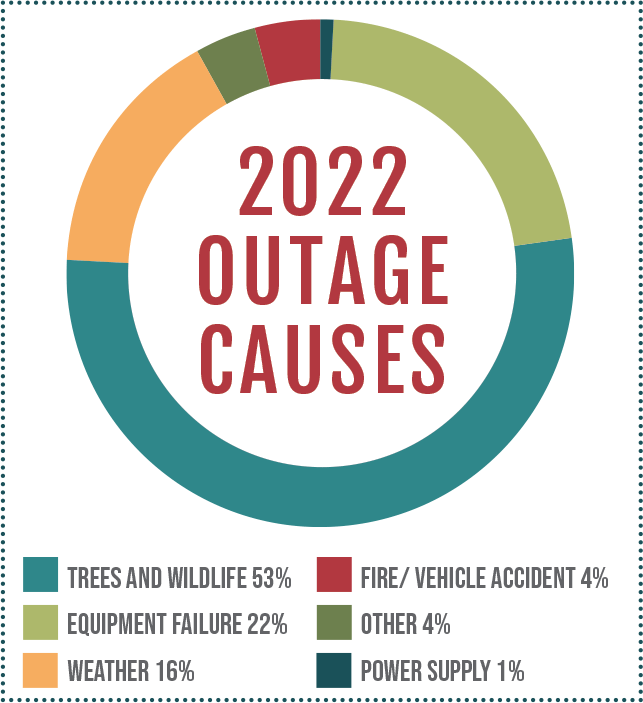 In 2022, our top three electrical outage causes were trees and wildlife, equipment failure and weather — often the usual suspects. Setting aside yowling at year's end, Mother Nature was quieter in 2022. Equipment failure accounted for 22% of all outages in 2022.
Across all outage causes, trees and wildlife saw the largest increase from 2021. Among all outages in 2022, 40% were caused by critters acting on their curiosity about our electric services. Engineers continue to proactively safeguard areas at higher risk from wildlife through camera monitoring, additional protective devices and pursuing grant-funded opportunities to convert overhead lines to underground. Doing so limits exposure to high winds, heavy trees and storm debris … and our animal friends also can't explore what they can't see.
Our report also measures Member Outage Minutes, or the total number of minutes in a year when members do not have service. After an increase of Member Outage Minutes in 2021, I'm pleased to report a 53% decrease in 2022.
The report also provides the average duration of outages, as well as the average time required to restore service. In 2022, the average outage duration hit its lowest point in six years, and we improved the time to restore service by 30% from 2021. Many thanks to our linemen, operations and engineering staff for serving you safely and swiftly. Surveys tell us reliability is among the most important service aspects to our members. We'll continue to deliver on that promise in 2023 and empower you with our essential service of electricity.